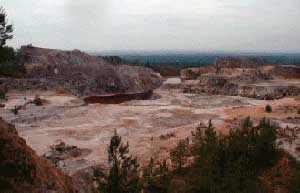 An abandoned mineral mine, Graves Mountain contains some of the most unique geologic features in the state of Georgia. It is located approximately 54 miles southeast of Athens just inside the Lincoln
County line and spans approximately. The mountain originally consisted of 3 hills about 400 feet high, but mineral excavation has left it a desolate canyon. Not too desolate for rock and mineral collectors, though, as nearly every weekend geologists and rock enthusiasts visit the abandoned mine in hopes of uncovering valuable specimens of rutile, pyrite and others.

Rutile is an angular, blocky mineral of gemstone quality distinguishable by its unusually high density and mirror-like surfaces.  Graves Mountain became widely known to mineral collectors as early as 1859 when Professor C. U. Shepard alluded to it in an article published in The American Journal of Science.  Approximately 90 years later a portion of the mountain was purchased by George F. Kuntz of Tiffany's and rutile mining commenced.

The main mineral originally mined is called kyanite.  Kyanite is a light blue to turquoise, flaky mineral used predominantly as a refractor, and was particularly used in the manufacture of Space Shuttle tiles.  At one point in time Graves Mountain supplied nearly half of the kyanite used by the United States!  Its mining began in 1963 by Aluminum Silicates, Inc. and Combustion Engineering, Inc. took over in 1965, diving head first into the operation.  As with all natural resources the supply of kyanite was eventually depleted in 1984 and mining ceased.  The quarry still has remnants of many quite interesting rocks and minerals and has become a popular site for educational field trips.

Want to visit Graves Mountain? Click here to learn how! (Clicking this link will take you to the Maymester webpage. The Maymester is a short yet intensive study of Soils and Hydrology in Georgia. You will travel all over the State and learn what makes Georgia the way it is).